In the last year we have added 5 more babies to our Family Dental Center family!
So we thought we would take a minute to discuss infant and child dental needs.
The American Academy of Pediatric Dentistry (AAPD) recommends that a child go to the dentist by age 1 or within six months after the first tooth erupts. Primary teeth typically begin growing in around 6 months of age.
In order to prevent tooth decay and cavities in primary teeth there are steps that you can take to reduce the risk.
Only fill the bottle with breast milk, formula or water.
Avoid giving fruit juices, sodas and other sugary drinks. Bacteria feed on the sugar from sweet drinks and produce acid, which attacks baby's teeth.
Sweet drinks- even milk- can settle on the teeth, which can lead to baby teeth decay also know as "baby bottle tooth decay"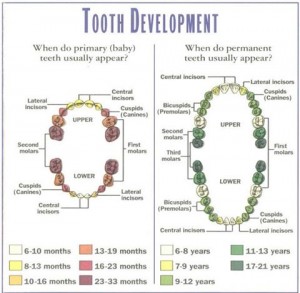 Caring for your baby's teeth
At first the care will not include a toothbrush and toothpaste. Instead use these steps to care for that precious first tooth:
Get a soft, moistened washcloth or piece of gauze.
Gently wipe down your baby's gums at least twice a day.
Especially wipe your baby's gums after feedings and before bedtime.
Topics your dentist may discuss with you might include:
During that first exam, your dentist will check all of your child's existing teeth for decay, examine your child's bite, and look for any potential problems with the gums, jaw, and oral tissues. If indicated, the hygienist will clean any teeth and assess the need for fluoride. They will also educate parents about oral health care basics for children and discuss dental developmental issues and answer any questions.
This will wash off bacteria and prevent them from clinging to gums. Bacteria can leave behind a sticky plaque that damages infant teeth as they come in. Once the first tooth comes in you can start using a toothbrush. Use a soft brush with a small head and a large handle. At first just wet the toothbrush and massage the gums and teeth, then once more teeth erupt you can use a small amount of toothpaste about the size of a grain of rice.
Good oral hygiene practices for your child's teeth and gums and cavity prevention
Fluoride needs
Oral habits (thumb sucking, tongue thrusting, lip sucking)
Developmental milestones
Teething
Proper nutrition
Schedule dental checkups
If you have any questions or concerns about your child's teeth do not hesitate to call us
Family Dental Center: 886-2805
We would be happy to help you and your family with all of your dental needs!