February-National Children's Dental Health Month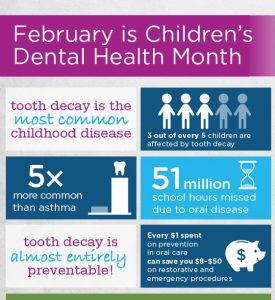 HELP YOUR CHILDREN BRUSH FOR 2 MINUTES 2 TIMES A DAY:
For kids under age 3, as soon as your child's teeth start to come into the mouth, brush using a children's toothbrush and fluoride toothpaste in an amount no more than the size of a grain of rice.
Use a pea-sized dab of fluoride toothpaste for kids ages 3-6, and use slightly more when they're older.
Teach them to spit out the toothpaste when they're done so they don't swallow it.
Help your kids place the toothbrush at an angle against their gums.
Help them to brush with soft circular motions.
Help them brush the front, back, and top of teeth.
Teach them to brush their tongue to remove germs and freshen breath
Keep track of your child's brushing routine. Give rewards for jobs well done!
DECAY PREVENTION TIPS:
Don't share saliva with your baby by sharing spoons, licking their pacifiers or pre-chewing their food.
Brush your children's teeth until they are able to do so themselves, usually around age 8. Then, supervise their brushing to make sure they brush thoroughly 2 minutes 2 times a day and spit out the toothpaste afterward.
Place only formula, milk, breast milk, or water in baby bottles. Infants should not be put to bed with a bottle.
Encourage your children to drink from a cup by their first birthday and don't let your child sip all day from a training (sippy) cup with sweetened beverages.
Encourage healthy eating habits that include a diet with plenty of vegetables, fruits and whole grains. Serve nutritious snacks to your kids and limit sweets to mealtimes.
Make sure that your kids get the fluoride they need. Discuss your kids' specific fluoride needs with your dentist or pediatrician.
VISIT A DENTIST:
It's important to  visit your dentist regularly your whole life.  Seeing a dentist regularly is important for good oral health.  Dentists can detect small problems before they become bigger, more painful problems.  Your child could have oral health problems you don't know about like cavities or gum disease.
References:
http://www.2min2x.org/about-kids-teeth/index.html