Halitosis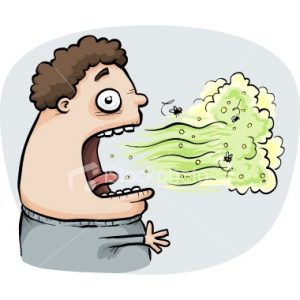 What is Halitosis?
Halitosis is commonly known as "bad breath"–bad breath is breath that has an unpleasant odor. This odor can occur from time to time, or it can be long lasting, depending on the cause.
About 1 in 5 people in the general population suffer from it, and many people who think they have it actually do not.
Halitosis is a concern of many patients seeking help from health-care professionals.  Although halitosis is usually an odor associated with the mouth, patients are more likely to contact their primary care medical doctor for diagnosis and management despite the significant dental component involved.  Due to the multifactorial complexity of halitosis, each case should be treated individually, and diagnosis and treatment needs to be from a multidisciplinary approach.
Millions of bacteria live in the mouth, particularly on the back of the tongue. In many people, they are the primary causes of bad breath. The mouth's warm, moist conditions are ideal for the growth of these bacteria. Most bad breath is caused by something in the mouth.
Some types of bad breath are considered to be fairly normal. They usually are not health concerns. One example is "morning breath." This occurs because of changes in your mouth while you sleep. During the day, saliva washes away decaying food and odors. The body makes less saliva at night. Your mouth becomes dry, and dead cells stick to your tongue and to the inside of your cheeks. When bacteria use these cells for food, they produce a foul odor.
In addition, bad breath can be caused by the following:
Poor dental hygiene — Infrequent or improper brushing and flossing, allows bits of food that are stuck between the teeth to decay inside the mouth. Poor oral hygiene eventually will lead to periodontal (gum) disease, which also can cause bad breath.
Infections in the mouth — These can be caused by either a cavity in a tooth or by periodontal (gum) disease.
Respiratory tract infections — Throat, sinus or lung infections
External source — Garlic, onions, coffee, cigarette smoking, chewing tobacco. Smoking and drinking coffee, tea and/or red wine will contribute to your teeth becoming discolored.
Dry mouth (xerostomia) — This can be caused by salivary gland problems, medicines or "mouth breathing." A large number of prescriptions and over the counter medicines cause dry mouth.
Illnesses — Diabetes, liver disease, kidney disease, lung disease, sinus disease, reflux disease and others
Psychiatric illness — Some people may believe they have bad breath, but others do not notice it. This is referred to as "pseudohalitosis."
The first thing you need to know to get rid of bad breath is knowing why it's happening. There are basically 3 different types of bad breath:
1- First, there's the lingering odor of foods that you've just eaten. These are pungent aromas, no matter how good your oral care is. When someone's just eaten garlic or onion, it sticks around for a while. You can mask it pretty well with gum, breath mints, or mouthwash.
2- Bacteria is largely to blame for bad breath. When food particles are left behind on your teeth and gums, they turn into plaque, which bacteria feast on and create waste products that smell awful.
3- Certain medical conditions can also cause bad breath, so if you're taking care of your oral health and still have bad breath, you should be sure to speak with your doctor about it
Diagnosis
A dentist or physician may notice bad breath during an office visit. Sometimes, the smell of the patient's breath may suggest a likely cause for the problem. For example, "fruity" breath may be a sign of uncontrolled diabetes. A urine-like smell, especially in a person who is at high risk of kidney disease, can sometimes indicate kidney failure.
Your dentist will review your medical history for conditions that can cause bad breath and for medicines that can cause dry mouth. Your dentist also will ask you about your diet, personal habits (smoking, chewing tobacco) and any symptoms. He or she also will ask who noticed the bad breath and when.
Your dentist will examine your teeth, gums, mouth and salivary glands. He or she also will feel your head and neck and will evaluate your breath when you exhale from your nose and from your mouth.
Your dentist may refer you to your family physician if an illness is the most likely cause. In severe cases of gum disease, your dentist may suggest that you see a periodontist (dentist who specializes in gum problems).
You will need diagnostic tests if the doctor suspects a lung infection, diabetes, kidney disease, liver disease or Sjögren's syndrome. The type of tests you get depends on the suspected illness. You may get blood tests, urine tests, X-rays of the chest or sinuses, or other tests.
**Call your dentist promptly if you have bad breath with loose teeth or painful, swollen gums that bleed easily. Even if you have none of these symptoms, call your dentist or physician if your bad breath continues despite a good diet and proper dental hygiene.
Sometimes bad breath can be a sign that a medical condition needs attention right away. If you have diabetes, gastroesophageal reflux disease (GERD) or chronic liver or kidney disease, ask your doctor what bad breath may mean for your condition.
References:
1.Loesche, WJ; Kazor, C (2002). "Microbiology and treatment of halitosis". Periodontology 2000 28: 256–79. doi:10.1034/j.1600-0757.2002.280111.x. PMID 12013345.
2. Harvey-Woodworth, CN (April 2013). "Dimethylsulphidemia: the significance of dimethyl sulphide in extra-oral, blood borne halitosis." British dental journal 214 (7): E20. doi:10.1038/sj.bdj.2013.329. PMID 23579164.
3. Baker, Lois. Dental Students Present Research at AADR National Meeting in Dallas. UBDentist (Fall 2008). p. 12
http://www.colgate.com/en/us/oc/oral-health/conditions/bad-breath/article/halitosis