CHOOSING THE RIGHT TOOTHPASTE AND TOOTHBRUSH
How do you choose what toothpaste AND toothbrush to use?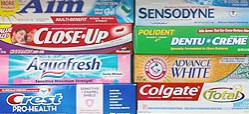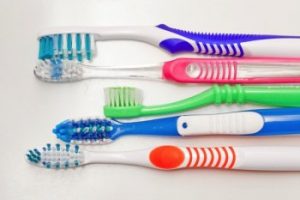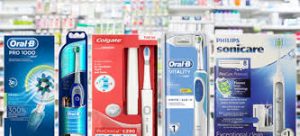 Ever find yourself staring at all the colorful boxes of toothpaste on a store shelf wondering which one is best for you? You may not often stop to think about your toothbrush and toothpaste, yet you use these tools every day. While all the products on the shelf might seem the same, with a little help from your dentist you can determine what is right for you.
Here are some options to consider.
Selecting a toothpaste:
No matter the brand, always select a toothpaste with the American Dental Association (ADA) seal of approval.
Anti-cavity: Almost all the options on the market contain fluoride. Fluoride is just as important as brushing in preventing decay, and it actively strengthens tooth enamel.
Anti-gingivitis: Do your gums suffer from redness and bleeding? You might have gingivitis, a mild form of gum disease. Anti-gingivitis toothpastes help reduce oral bacteria and can be very effective at stopping this gum condition at its source.
Desensitizing: Ever take a sip of hot coffee or a cold beverage and feel a shooting pain? This type of toothpaste might be the key to relief – it helps reduce pain by blocking the tooth's pain signal to the nerve.
Tartar-control: As its name indicates, tartar-control toothpaste helps prevent the buildup of tartar – hardened plaque. While this product is helpful in slowing new buildup on teeth, a professional dental cleaning is the only way to remove existing tartar and the bacteria it harbors.
Whitening: Containing polishing or chemical agents that remove surface stains, this toothpaste is able to help maintain the natural color of your teeth.
**All toothpastes with the ADA Seal of Acceptance contain fluoride. In addition to fluoride, toothpastes may contain active ingredients to help improve tooth sensitivity, whiten teeth, or reduce gingivitis or tartar build-up. Toothpastes with the ADA Seal of Acceptance do not contain any flavoring agent that causes or contributes to tooth decay (e.g., sugar). A product earns the ADA Seal of Acceptance by providing scientific evidence that demonstrates the safety and efficacy, which the ADA Council on Scientific Affairs carefully evaluates according to objective requirements.
Selecting a toothbrush:
There is more to your brush than the color! (But in case you're wondering, the most popular toothbrush color is blue.)
Bristle firmness: Soft brushes are recommended by dentists for daily use. Unless your dentist advises you otherwise, reach for a brush labeled "soft" on the package.
Bristle shape: Are the ends of the bristles blunt or rounded? This is a small detail that can make a world of difference. Rounded bristles are less likely to damage delicate gum tissue.
Bristle surface: The shape of the face of the bristles that make contact with the tooth changes the effect. Flat and multilevel brushes are the best for all-around cleaning.
Handle design: Select what is most comfortable for you. All handles seem to be equally effective when used properly. Large handled brushes are often easier for children to grip.
Head shape and size: Toothbrushes come in all shapes and sizes. Choose the shape that is the most comfortable for your mouth. If you have a small mouth, opt for a compact brush.
Electric toothbrushes: Electric toothbrushes are just as effective as manual ones when you use proper brushing techniques. Electric brushes can be a great option for people who have trouble reaching the corners of their mouth and have trouble brushing for the recommended two minutes.
Remember: Your toothbrush won't last forever. Three months is a typical lifespan, but whenever the bristles start to become bent, it's time to go shopping.
Quick Tip: Despite popular opinion, it is actually less sanitary to keep your toothbrush covered. Letting the brush air dry between uses prevents the growth of bacteria on the bristles.