What is a Dental Assistant?
We celebrated National Dental Assistant week March 1st-7th
So what is a Dental Assistant?
There are many people involved in your care when you visit Family Dental Center, including the Dentists: Dr. Schulte and Dr. Zink,  the Hygienists: Kayla, Kaitlyn, Rachelle and Tara, the Front Desk staff: Sandy, Cleo and Jen and the Dental Assistants: Erin, Danielle, Lindsay, Jenn and Jerica.
One of the main duties for a Dental Assistant includes assisting the Dentist during procedures and treatments, but that is only one of their responsibilities.
Some other duties include but are not limited to:
taking dental radiographs (x-rays)
asking about the patient's medical history and taking blood pressure and pulse
serving as an infection control officer, developing infection control protocol and preparing and sterilizing instruments and equipment
helping patients feel comfortable before, during and after dental treatment
providing patients with instructions for oral care following surgery or other dental treatment procedures, such as the placement of a restoration (filling)
teaching patients appropriate oral hygiene strategies to maintain oral health;
(e.g., tooth brushing, flossing and nutritional counseling)
taking impressions of patients' teeth for study casts (models of teeth)
communicating with patients and suppliers (e.g., scheduling appointments, answering the telephone, billing and ordering supplies)
helping to provide direct patient care in all dental specialties, including orthodontics, pediatric dentistry, periodontics and oral surgery
(American Dental Association)
Dental Assistants work in a variety of fields which include the following:
solo dental practices (practices with only one dentist)
group practices (practices with two or more dentists)
specialty practices, such as oral and maxillofacial surgery (removal of teeth and correction of facial deformities), orthodontics and dentofacial orthopedics (straightening teeth with braces or other appliances), endodontics (root canal treatment), periodontics (treatment of gum problems), prosthodontics (replacement of lost teeth) and pediatric dentistry (treatment of children)
public health dentistry, including settings such as schools and clinics which focus on the prevention of dental problems within entire communities
hospital dental clinics, assisting dentists in the treatment of bedridden patients
dental school clinics, assisting dental students as they learn to perform dental procedures
(American Dental Association)
A big shout out to our wonderful Dental Assistants here at Family Dental Center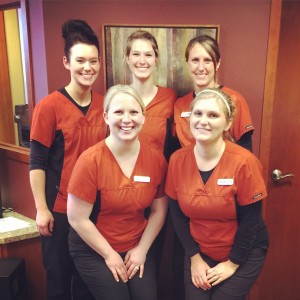 Pictured left to right
         top row: Jenn, Jerica, Erin
     bottom row: Danielle and Lindsay
Thank you for all your hard work and dedication!