Straight Teeth, Less Time
There are many adults who are self-conscious about their teeth. They feel stuck because they do not want to wear metal braces for years or they are concerned that other corrective procedures could be too invasive or too expensive. Now there is a clear solution: Six Month Smiles. Six Month Smiles has taken the best aspects of braces and modified the treatment and the materials to give adults an effective, cosmetic solution. Six Month Smiles utilizes specialized clear braces to gently straighten and align teeth in an average time of just six months. Six Month Smiles is also generally less expensive than traditional braces or the different forms of aligners.
Before and After of Six Months Smiles completed by Dr. Zink at Family Dental Center.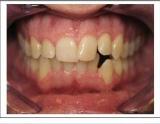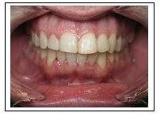 Call Family Dental Center today to set up your free orthodontic consult with Dr. Erika Zink.